FutureSmart® Wiring
"Structured Wiring, that is your Gateway to the Future"
When it comes to residential structured cabling and wiring systems, there seems to be one reality: traditional wiring doesn't support technologies available today, let alone those on the horizon.
In fact, brand new homes with ordinary wiring are obsolete when you move in. Shouldn't the wiring serve your needs as long as the mortgage? For these reasons, FutureSmart® has developed the FutureProof® Interactive Network (FIN).
Not only does the FIN system give your home access to the latest in home entertainment, telecommunications, home computing, audio/video, security, and home automation, it can FutureProof® your home to handle tomorrow's technologies. It can also significantly increase the resale value.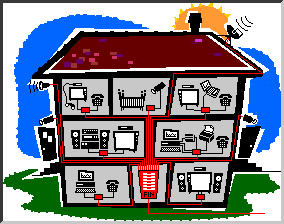 The best part is that the FutureSmart® FIN system doesn't really cost much more than conventional wiring schemes used today. And it's completely scaleable. You can connect a few rooms now or wait until later. This means it's not just for new construction or large homes, it's for anyone in any size home, apartment, or condominium, who really wants to live in the present and be ready for the future.
Home Computing
A FutureSmart® FIN System can reduce the cost of having multiple computers in your home or office. It allows you to share data, printers, and software. And you'll have Internet access from every PC.
Telecommunications
The FutureSmart® FIN System supports high-speed digital lines for telephones, fax, modem, Internet access, ISDN, cable modems, etc.
Multimedia
The FutureSmart® FIN System brings video and audio to any room you want, whenever you want it. You can view cable or satellite from every TV or share one centrally located VCR. You can have home-wide stereo controlled from every room. The FutureSmart® system supports High-Definition TV (HDTV) and Digital Satellite Systems (DSS). FutureSmart's® fiber optic cabling will FutureProof® your home for digital video, computing and interactive TV signals.
Security
The FutureSmart® FIN System allows you to monitor security cameras from any TV or PC. For example, you can check on a sleeping baby from any TV. And you can integrate security with heating and air conditioning, telephone, and surveillance services.
---
we make the magic work