Custom Lighting Control and Design
Tree Ridge designs sophisticated and elegant lighting control systems
One of the most important aspects in creating a beautiful home is lighting design. At Tree Ridge we work with you and your architect to provide a wide variety of lighting features for your home that will enhance your decor and provide you with the highest level of sophistication and flexibility.
Control and monitor the light in your home from one or more Master Control locations.
Create a path of light by simply pressing one or more Master Control buttons to light a pathway through your home, i.e. from your master bedroom to the kitchen.
Consolidate switching with sleek Master Controls that reduce the number of switches on your walls for a clean attractive appearance.
Create preset scenes of lighting that match your activities and mood and that can be recalled with a touch of a Master Control button.
Save energy with a glance at the Master Control which shows what lights are on, enabling you to turn all lights off with a touch of a button.
Increase security in emergencies by simply pushing the ALL-ON button to illuminate all home lights, or integrate your lighting and security systems for peace of mind.
Use vacation mode lighting by having your system replay your lighting patterns to simulate occupancy.
As a dealer for many varied companies, Tree Ridge designs the system for you as well as trains the electrical contractor to do the installation. We also provide system programming and support for your home.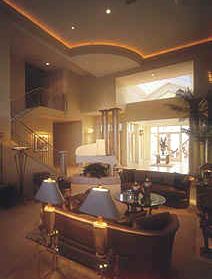 ---
we make the magic work