You deserve the very best in your home theater
Custom Projection, Screens, and Surround-Sound Home Theatre Systems designed and installed by Tree Ridge
Imagine getting ready to watch a movie in your home. As you sit down on your couch, popcorn in hand, motorized shades lower over your windows to darken the room. The movie projector clicks on and the movie screen lowers.
Touch Control
You control it all with a state-of-the-art touch panel. You feel comfortable in the confines of your home, as the sounds of Hollywood surround you.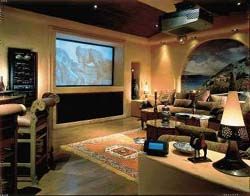 Professional Theater Experience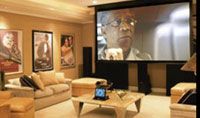 At Tree Ridge, we can provide you with a state-of-the-art home theatre system specifically designed for your new home. And the best part is, when you are not using it, you won't notice that it is there.
The projectors, screens, and surround-sound systems we install in your home will bring the best of the theatre into your home without transforming your home into a theatre.
Tree Ridge - for the quintessential home theatre experience
---
we make the magic work