Just imagine… waking up in the morning to the peaceful sounds of your favourite music, below the curtains are sliding open, outside the roll-deck of the swimming pool opens up. And you dive into a world of unprecedented comfort. The world of Vantage home automation. Or more… when you return home after a busy day, the garage door slides open, cosy illumination lights up in the garden and in the living room, and the Jacuzzi is already warming up in the bathroom. Vantage adapts everything in your home, according to the moment of your day. And magically changes your home into an intelligent home.

Simplify your life at the touch of a button
You want your new home to be perfect, and you've thought through every detail to make sure it's exactly what you want. The addition of a Vantage system can enable you to truly enjoy your personal paradise.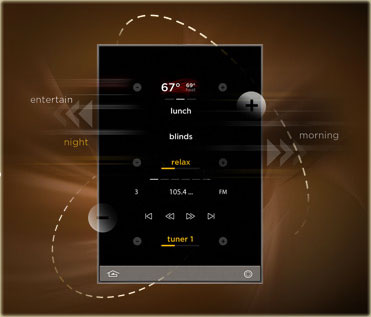 The Keypad Collection from Vantage enhances not only the capabilities of your system, but also the atmosphere in your home. At the touch of a button, you can alter the feeling in a single room or completely transform your living environment. Or swipe to your personalized favorites on Equinox 4.
No matter whether from your smartphone, Android or iPad tablet, an inwall LCD keypad or touchscreen, your user experience and navigation all look, feel and operate the same.
The 'Experience' solution from Vantage – simple and intuitive to use, adaptable to your changing living environment and always available on all your smart devices allowing you to focus on enjoying life.
When you choose Tree Ridge's partner, Vantage, you are not just choosing comfort, but flexibility and ease of use as well. Not to mention reliability, durability, style and elegance. And endless possibilities.
---
we make the magic work