Structured Wiring - your Gateway to the Future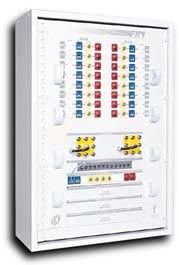 FIN Panel
The FutureSmart® FIN (FutureProof® Interactive Network) System includes a centrally located distribution panel to which all signals from service providers are connected, such as satellite or cable TV, telephone, fax or ISDN, and Internet. These signals are routed between rooms. The FIN Panel is available in different sizes, depending on the size of the home and can network over fiber optic, twisted pair (telephone) and coaxial cables. The FutureSmart® FIN System is extremely reliable and easy to change which signals go where.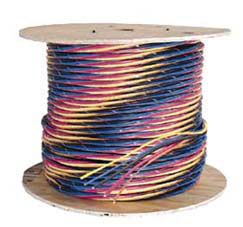 SpeedWrap™ Cable
SpeedWrap™ Cable is a high performance digital-capable cable that is used to network and distribute signals throughout the home. Individual CAT5e/6, 4-pair twisted pair cables, quad shield RG6 coax cables, and fiber optic cables are bundled into one easy-to-pull cable. A variety of SpeedWrap™ combinations are used to bundle telephone, computer, HDTV, cable TV, and regular TV lines.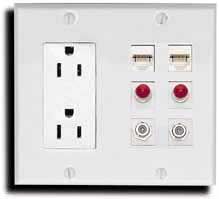 FutureSmart® Receptacle
The Multi-Media Receptacle is an attractive, easy-to-configure wall receptacle that provides a quick in-room connection to the Distribution Panel. It can combine between 2 and 6 telephone, coax, or data connections in a single receptacle. The Modular design of the FutureSmart® Multi-Media Receptacle allows you to custom configure it with as many telephone, TV or fiber connections as needed.
---
we make the magic work